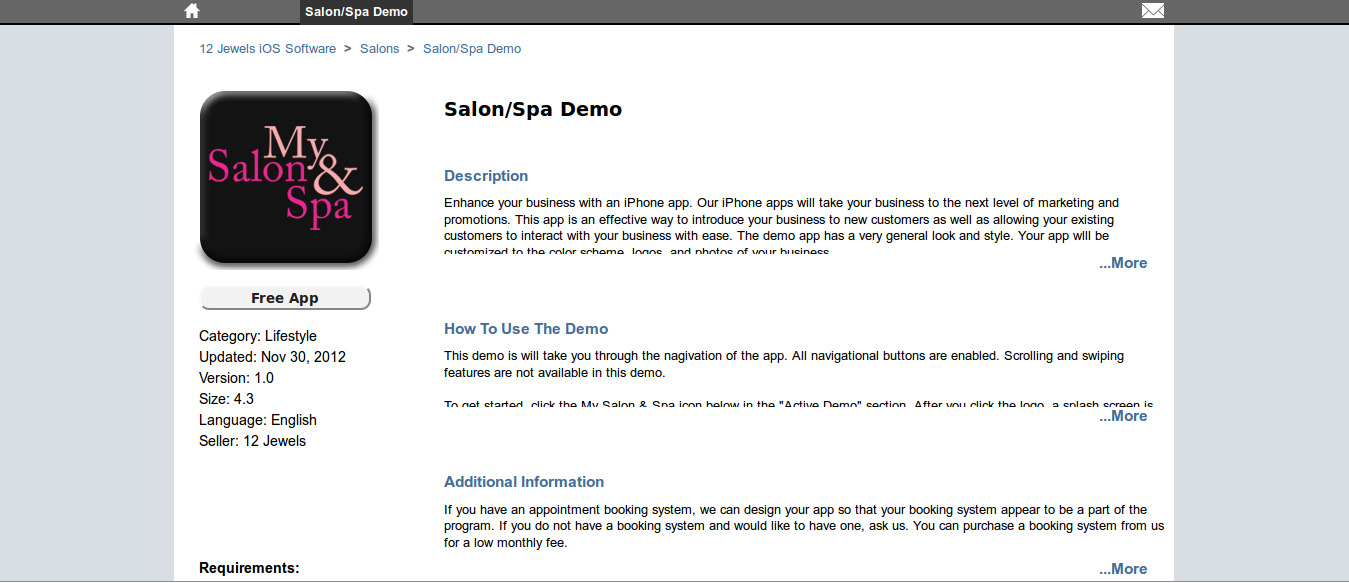 Type: iPhone App
Technologies Used for App: Xcode: Tab Bar Controller, Scroller View, Table View Controller, Navigation Controller, MapView, WebView Controller
Technologies Used for Web page: HTML, CSS3, jQuery
Other: I created the logo for the icon used. I wrote all of the text on the page.


This is a demo of an iPhone app i created for salons and spas that may want an iPhone/iPad app as a tool for new and existing customers to get more information about the salon.

Click the image on the left side to go to the demo page. The demo is fully functional simulation of the actual app. The only simulation that is not present in the demo is swiping. Click the icon on the phone to start using the app.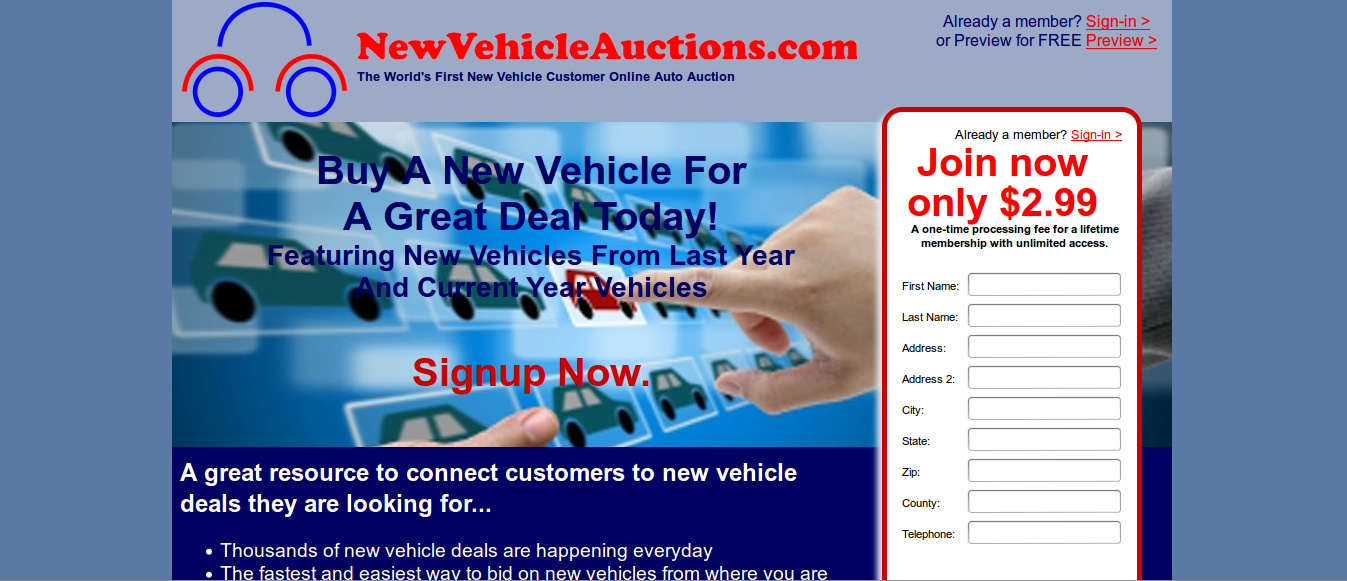 Type: Website/Mobile Website
Technologies Used for Website: HTML, CSS3, MySQL, PHP, jQuery, JavaScript, AJAX, CRON Jobs
Technologies Used for Website's CMS: HTML, CSS3, MySQL, PHP, jQuery, JavaScript, AJAX, CRON Jobs
Technologies Used for Web-based Mobile App (iPhone/Android): HTML5, CSS3, jQuery, jQuery Mobile, JavaScript
Other: I created the company logo. I wrote all of the text on the page. I designed the front-end, the backend, as well as the CMS of the website.


This website/mobile website was create for the use of new vehicle auctions. To get a different view of the site you may visit it with your smartphone.
Please contact me if you would like to login to view what a bidder sees and/or if you would like to view the auctioneer CMS.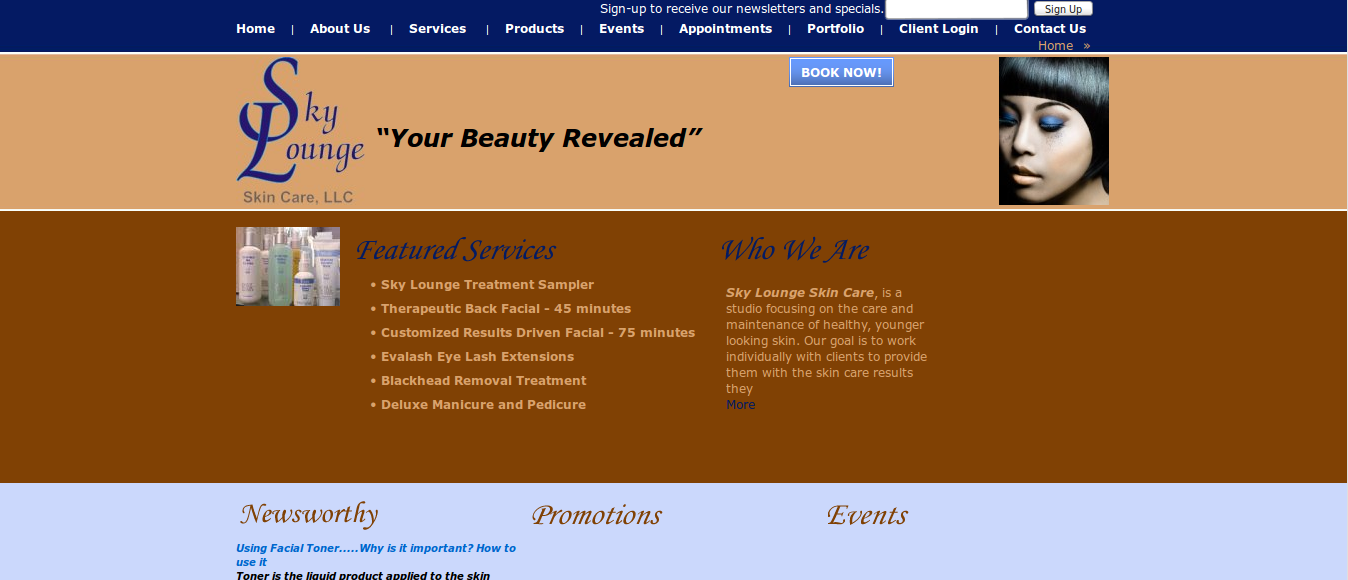 Type: Website
Technologies Used for Website: WordPress, HTML, CSS3, MySQL, PHP, jQuery, JavaScript, CRON Jobs
Technologies Used for Website's CMS: Custom Plug-ins: Manage Clients, Manage Plug-ins, Manage Services, Manage Employees, Manage Vendors, Manage Retail Inventory, Manage Service Inventory, Manage Events, Manage Promotions, Financial Statements, Create Promotions, Email List, Email Groups
Other: I created the company logo. I designed the website.


This website was created for Sky Lounge Skin Care, LLC. The CMS includes custom WordPress plug-ins that I wrote. The plug-ins manages just about everything a salon/spa would need to operate a successful business.
The email blaster allows the sending of promotion emails to clients. The rate the emails are sent are controlled by a CRON job I wrote. The CRON job sends out a certain amount of emails every 15 minutes to prevent the server from being flagged as a spammer. Clint email addresses can be placed in groups so that emails can be sent to a particular group instead of the whole client email list. Track employee payroll, product sales, and service sales. Track and manage sales inventory as well as salon supplies. Manage salon's profit and lost with the option of selecting a date range of profit and lost. Track and manage finances spent with each vendor.
Please contact me if you would like to see the plug-ins in action.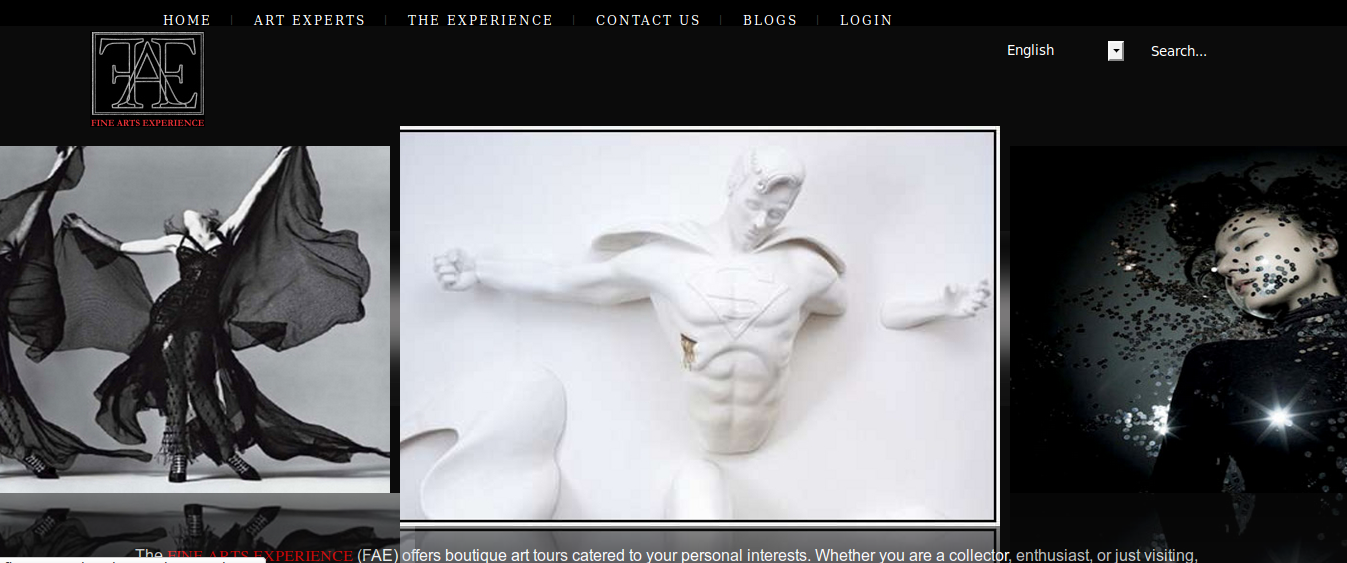 Type: Website
Technologies Used for Website: WordPress, HTML, CSS3, MySQL, PHP, jQuery, JavaScript
Technologies Used for Website's CMS: Custom Plug-ins, HTML, CSS3, MySQL, PHP, jQuery, JavaScript
Other: I designed the website.


This website was create to be use as touring software. A visitor that wants a tour of the various art places that Maryland has to offer will have to login to get started. After the visitor logs in, the visit can then add locations to there list of places they want to visit (similar to adding items to a shopping cart). The places to add are available based on the days and hours of operation of the place they want to visit. When adding places to the list, the amount of time that it would take to visit the place it calculated. Once the all of the time to take the tour is calculated, the system tells you which type of trip you selected to take and gives you the price of the tour. The profile of the visitor and the visitor's picks are saved. When a visitor logs in again all of there previous picks and settings can be viewed. Visitors can changed the dates and time of their requested tours as well.
Please contact me if you would like to login and experience what it is like to create a tour request.